Make your own Flashcards in 4 easy steps
You are looking for an app that will help you make Flashcards online.
a) If you want to create and learn them in the app, read further.
b) If you want to mate printable Flashcards for free, see this easy tutorial.
Let's look at how to make Flashcards…
We will use Flashcard app Vocabulary Miner that works on Android and iPhone and has also a complement web app.
WHY?
It is easy and simple.
It has awesome smart algorithm based on spaced repetition (SRS) that recalls actively words from your memory.
It takes couple minutes to create and learn vocabulary.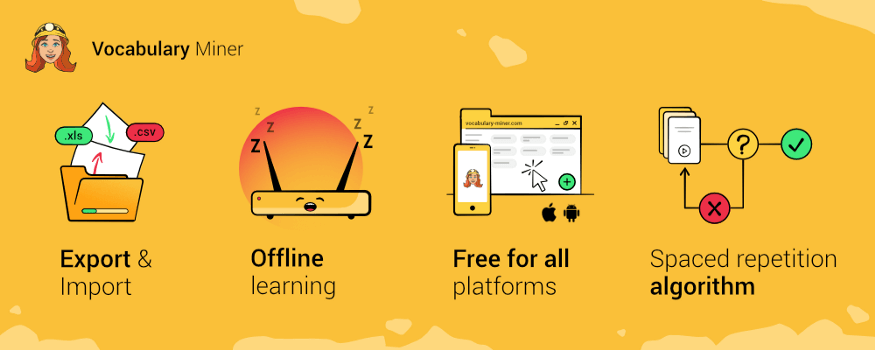 So how to make Flashcards in the Flashcard maker app Vocabulary Miner?
❓?Before we start, join our Facebook group Learn vocabulary supported by Vocabulary Miner to have your questions answered by the community or the team behind Vocabulary Miner and get inspired. We all need it from time to time.
There are 2 options for you. You can create and save your words
a) in the app (great for shorter Word lists, the mobile app is always at hand)
b) or create them in the web app (better if you want to copy vocabulary from materials, it is faster and convenient)
Let's look at these options closely:
How to create Flashcards in the Flashcard app
When to use mobile app Vocabulary Miner:
Example: You are watching Money Heist on Netflix to learn Spanish and have fun. You hear that La casa de papel does not mean Money Heist but The House of Paper. So you add these words in the Flashcard app Vocabulary Miner. Fill in the example sentence with something like I watch Money Heist on Netflix (in Spanish).
Tutorial:
 After successful sign in the app, you can either create or download Word lists. Create your first Word list by clicking on the plus (+).
Fill in the name of a new Word list in the pop up window. Choose also the language you know and the language you are learning.
Save your new Word list. It is also backed up on our servers.
Add a new word by clicking on the plus (+). You need to fill in the word in both languages. We recommend to also write an example sentence to keep the word within its context and remember the vocabulary better.
How to make Flashcards on your computer fast and easy
When to use web app Vocabulary Miner:
As a student of languages, you probably really want to spend time learning rather than creating Flashcards. If you are a teacher you might want to find a fast Flashcard maker for teachers that will save your time for preparation.
Let's look at how to make your own Flashcards on the computer. It has faster and easier import and download of words in 3 templates – csv, pdf and printable Flashcards.
You can make Flashcards online, then print them out or learn them in the Flashcard maker app Vocabulary Miner.
Both apps, mobile and web, are synchronized in real time, so anything the user uploads via a fast web app will be ready for learning in the mobile app.
Tutorial:
Go to https://vocabulary-miner.com/ to sign in under Log in web app (right upper corner). If you already have an account go straight to app.vocabulary-miner.com.
Click on the plus (+) to create a new Word list.
In the pop-up window, fill in the name of the new Word list and the language combination. Save the new Word list.
You can add new words either one by one or you can do it faster thanks to the IMPORT button in the right upper corner. You can copy vocabulary from any Spreadsheet, Google Docs, Excel or from anything else and paste them back in the web app.
If you want printable Flashcards, yes, Vocabulary Miner is also printable Flashcard maker! Create pritable Flashcards at app.vocabulary-miner.com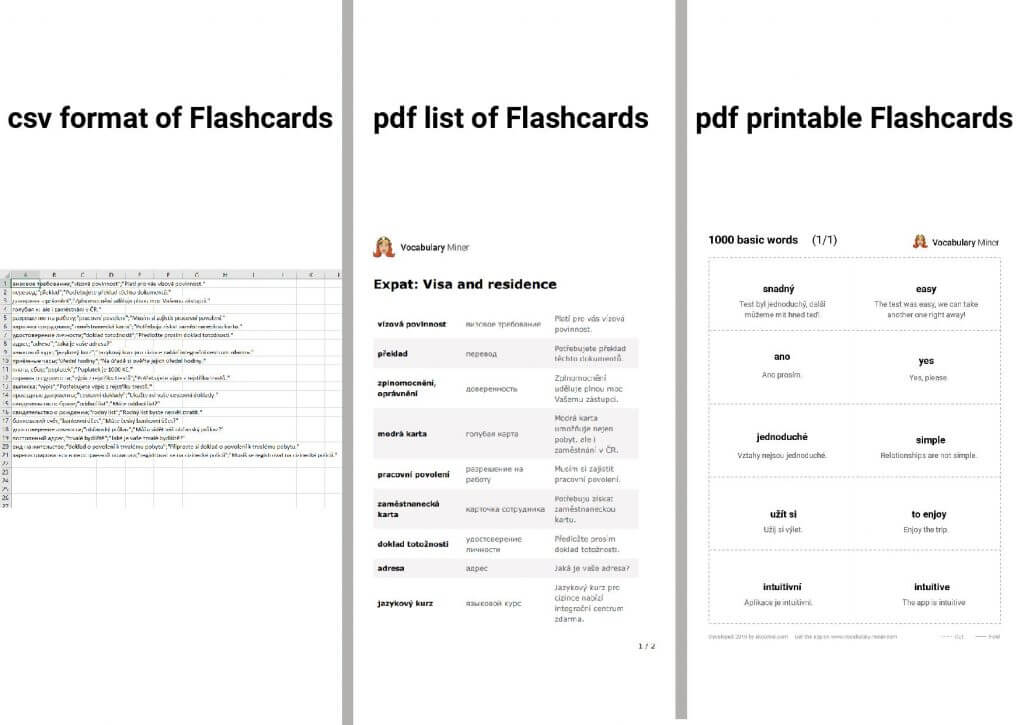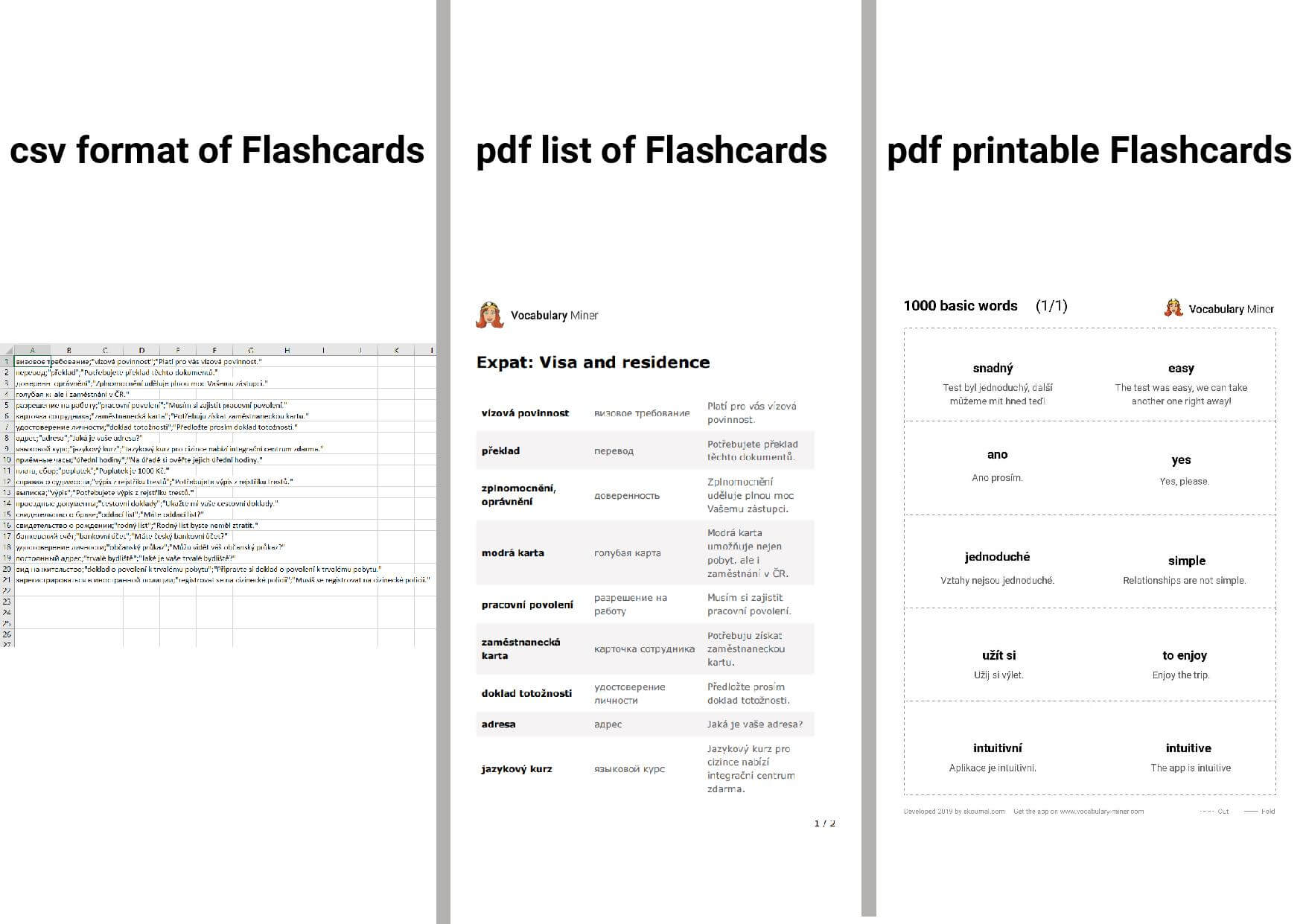 Well done!
Do you wonder how the Flashcard app Vocabulary Miner came into existence? Then read our article How frustration from learning vocabulary created Vocabulary Miner.
Do you wonder what other Flashcard apps are and what is the difference between Vocabulary Miner and them? Read 2020 Update: Ultimate Guide to Find the Best Flashcard Apps for Learning Vocabulary.
Interested in more stories? We practice to #saymore on our Instagram, too.