How to make Flashcards and print them fast and for free in 7 easy steps
As a student of languages, you probably really want to spend time learning rather than creating Flashcards.
If you are a teacher you might want to find a fast Flashcard maker for teachers that will save your time for preparation.
This tutorial for free printable Flashcards will help you create Flashcards from a Google spreadsheet, or an Excel spreadsheet or even Google Docs only with help of CTRL+C and CTRL+V.
You can then get these printable vocabulary Flashcards in pdf format (in a form of Flashcard template) that you will cut and fold, or you can learn and share them for free in Flashcard app Vocabulary Miner.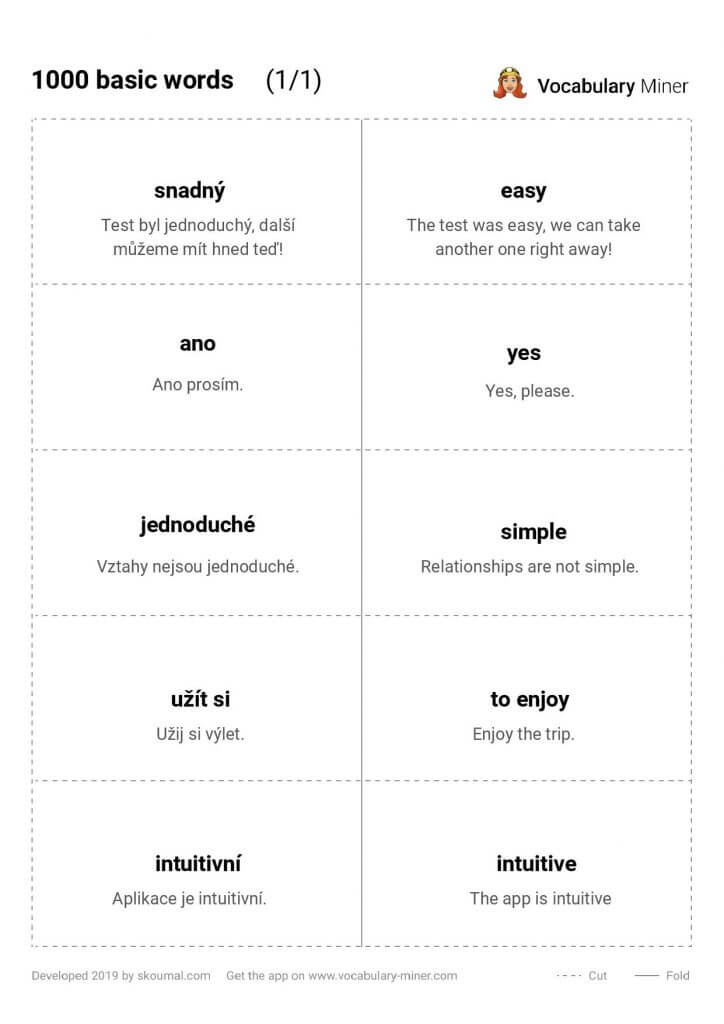 How to make printable Flashcards
Let's look at how to make your own Flashcards. You can make Flashcards online, then print them out or learn them in the Flashcard maker Vocabulary Miner.
1) Go to https://app.vocabulary-miner.com/. It is a free web app that enables you to easily create your own Flashcards.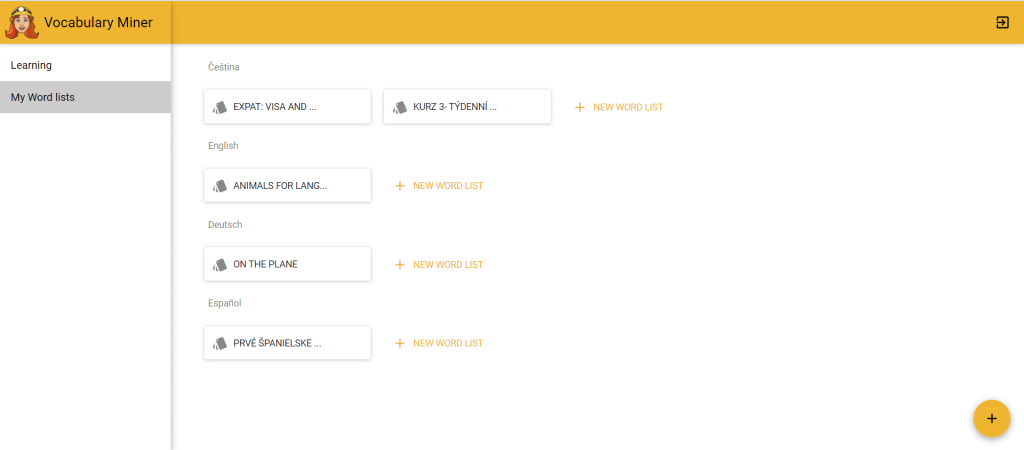 2) Sign in the web app with your e-mail address, Facebook or Google.
Why to sign in the Flashcard maker app Vocabulary Miner? The Word lists you create will be safe – our server provides a backup for you thanks to the sign-in. Moreover, all your devices will be synchronized, and therefore, you can learn everywhere and offline, too.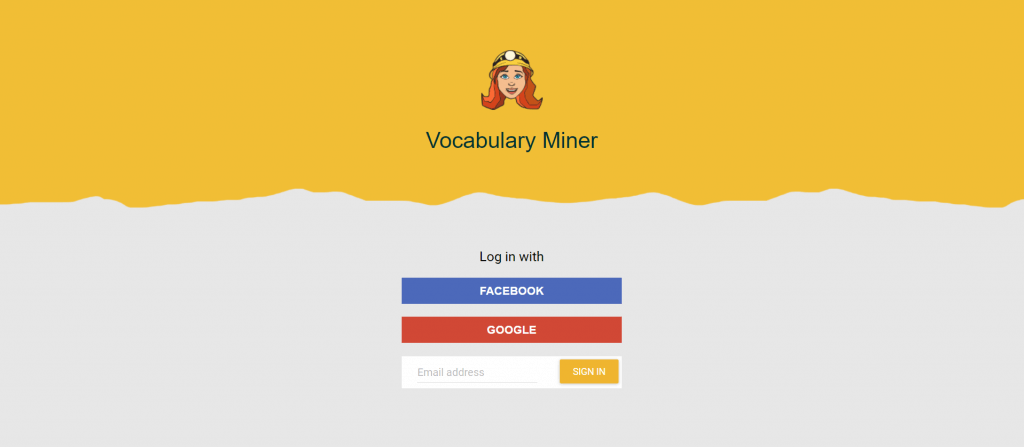 3) Start creating your Word list by clicking at any PLUS sign you see. Name your Word list and choose the languages – the one you speak and the one you want to learn/teach.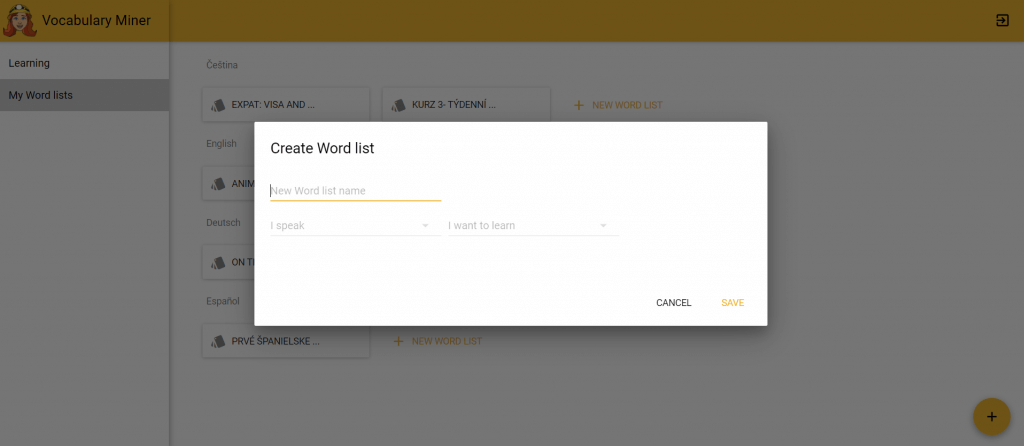 4) How to make Flashcards faster? To make Flashcards from Google Docs or Google Spreadsheet really quick, click on IMPORT button on the right.
Go to your document or spreadsheet. Copy the words (CTRL+C, on Mac Command + C) and paste them (CTRL+V, on Mac Command + V) back into the Vocabulary Miner web app form.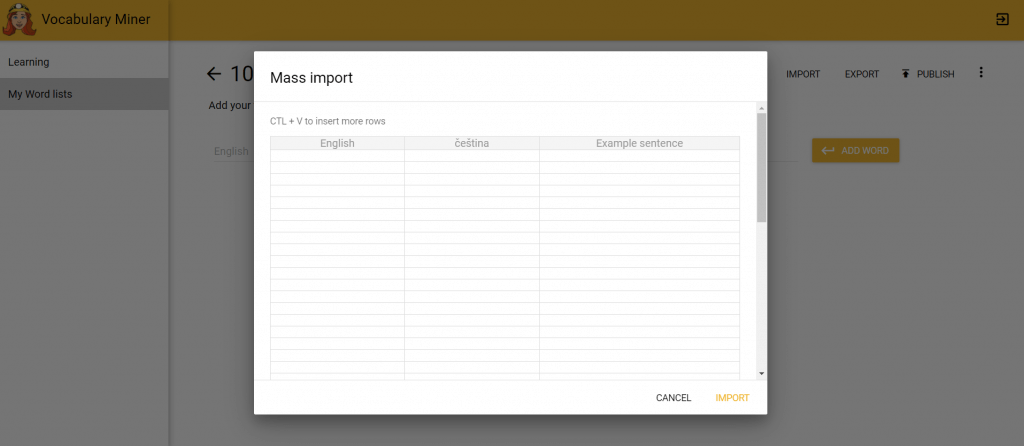 If you want to import more words at once, click on IMPORT button in the Vocabulary Miner web app.
If you are not sure how to copy and paste, check this video:

5) Click on IMPORT button and these Flashcards are already available only for you in both apps, web app and also mobile app with effective spaced repetition. You can access them anywhere from any device by signing in with the same e-mail address.
6) Choose the Word list you just created and click on DOWNLOAD or EXPORT in the right upper corner.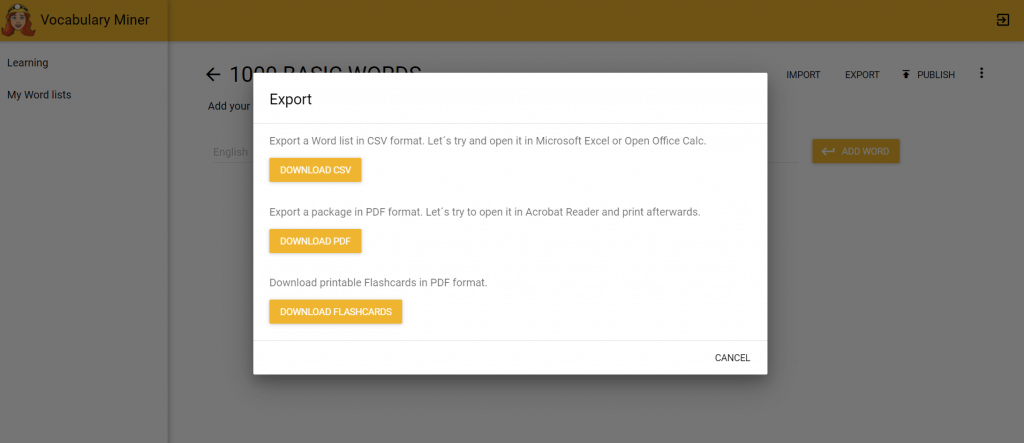 7) Choose the format you need for your Flashcard template.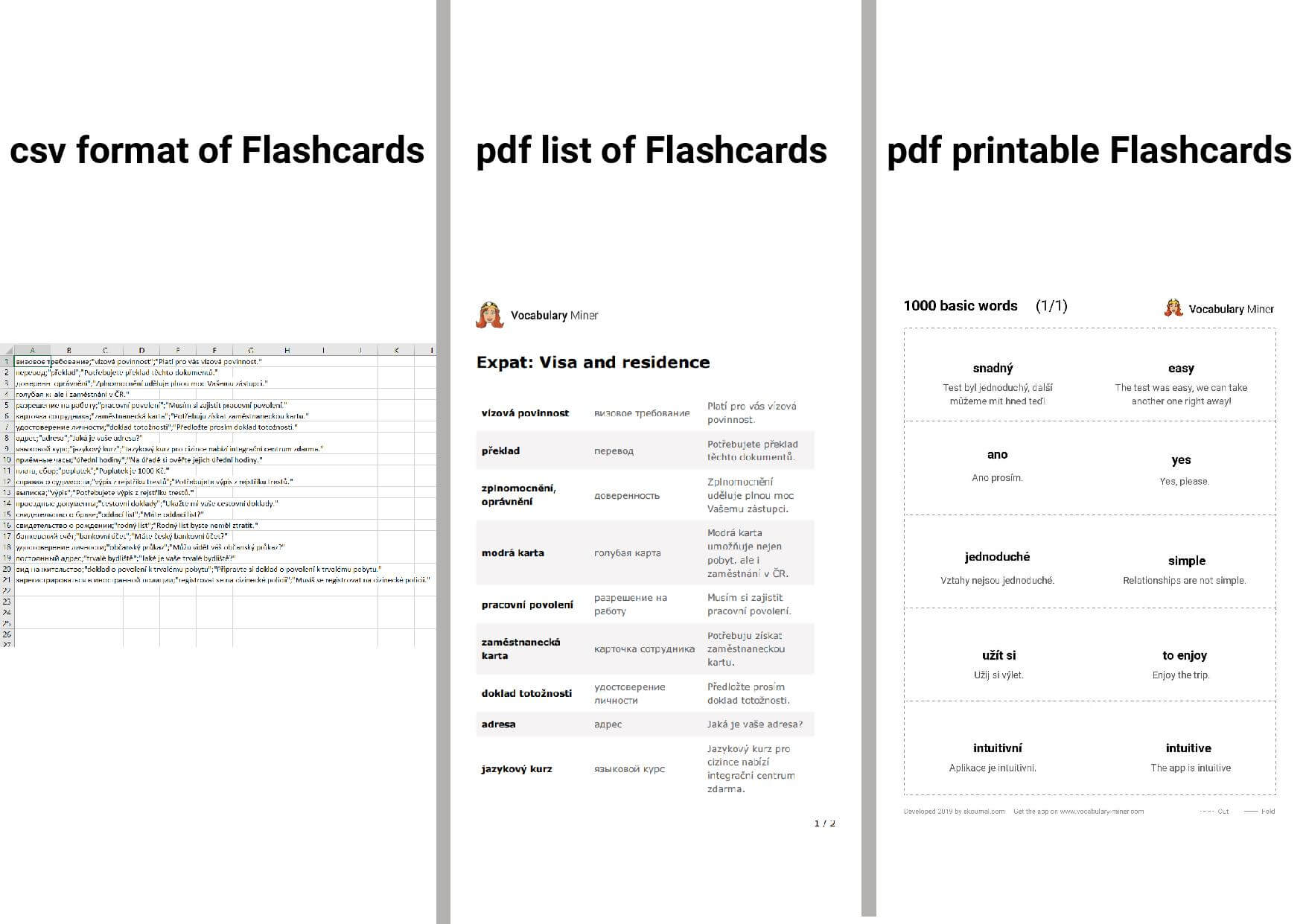 Done!
If you are asking yourself "Is there an app for my flashcards?" Yes, there is.
You can learn these cards to Vocabulary Miner Flashcard app or any other Flashcard app. Here is the 2020 ultimate guide that can help you to find the best Flashcard app for you.
In the article Our story: How frustration from learning vocabulary created Vocabulary Miner, there is an honest summary of what are the differences between Flashcard apps from our point of view.
Good luck with finding the right app for your needs. We hope you say more every day!
How to use Vocabulary Miner app? Check video … or more detailed tutorial here.

Interested in more stories? We practice to #saymore on our Instagram, too.