Our story: How frustration from learning vocabulary created Vocabulary Miner
Vláďa Skoumal, the founder of Czech-based studio SKOUMAL that created Flashcard app Vocabulary Miner , shared in the beginning of 2014 frustration of a Flashcard user himself:
"I felt like there was always something missing in the other vocabulary apps. I was looking for an app that brings quality, simplicity, and usefulness in one."
The team was going through forums of Flashcard app users looking for answers. But one day, we told ourselves — let's make it more simple. And Vocabulary Miner, Flashcard maker app was born…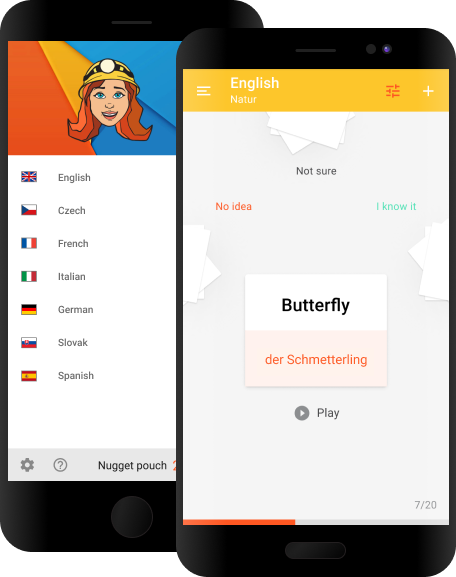 How is Vocabulary Miner different from others in 2020?
Vocabulary Miner as a Flashcard maker app had its competitors already in 2014.  In 2019 we looked at them closely in this comparison that we updated with all available information in 2020.
We have been improving the app throughout the years, changing something here and there.
However, there are 3 basic principles we stick to no matter what> usefulness, simplicity and quality.
a) Simplicity > Our goal was for users to stay focused.
Competitors use games that sometimes doesn't do good
Vocabulary games reinforce what you are learning. But games are tricky, too. They can cut the word out of context (read this Duolingo review – Are you a duck?). According to this study, users also find that some games might be demotivating.
Some apps might want you to spend more time in their app than needed. More time you spend in the app, the more they get paid from ads. Then, you use the app for the purpose of gaming itself not for the learning you originally intended. American Addiction Center informs about rising mobile app addiction here.
Just be aware of such games and practices. Always think whether the vocabulary game makes you learn or you just ended up playing for the sake of "dopamined" procrastination. Even Forbes writes about "addictive language-learning app". Some of its users started to feel the addictiveness too consulting it in forums.
There are great Flashcard apps (like e.g. Anki) but they can be too complex with its highly customizable Flashcards. Anki has free open source a bit outdated Android and web version and nice but paid iOS version. Anki has also a very detailed manual with many user options, although it is not an easy reading.
Vocabulary Miner keeps it as simple as possible
We decided to stick to our special simple spaced-repetition algorithm rooted in Flashcards. That's it – we keep it as simple as possible. Our algorithm includes a special artificial gap in learning to pressure you to learn effectively without wasting your time.
This simple approach is working for years and it is not taking your focus out of learning. So when you learn, you learn effectively with your entire focus. Then you go play something & somewhere you really want to.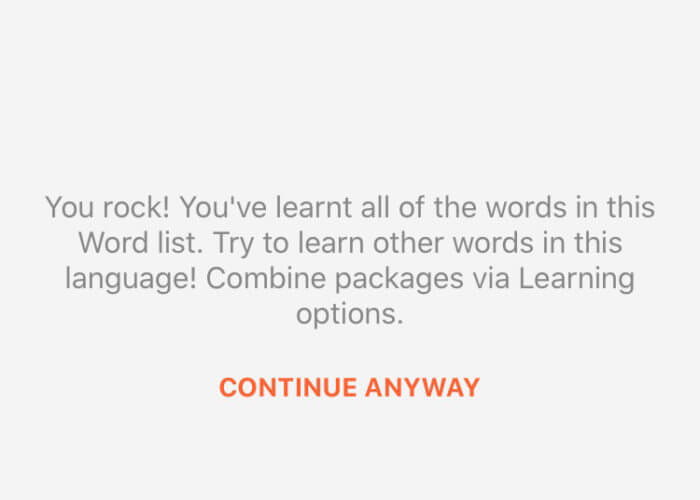 Vocabulary Miner won't let you waste your learning time. Screen from the learning that suggest to learn something else.
b) Usefulness > Our users are not bothered with unnecessary distractions
The SKOUMAL team as mobile app developers understand that notifications, e-mail marketing, ads, pop-ups and difficult goodbye from the app makes people stay in contact with the app. But we decided to keep it clean.
Competitors run on ads, emails and notifications to get loyal customers
Some apps pressure their users to really learn with push-notifications. It created some funny articles like Why does the Duolingo owl scare me more than my high school Spanish teacher ever did?
Other apps keep learning for free by running ads and if you are bothered by them, you can switch to paid version. According to user forums and this study it is, however, not surprising that people are bothered by "too many ads" and "too many notifications".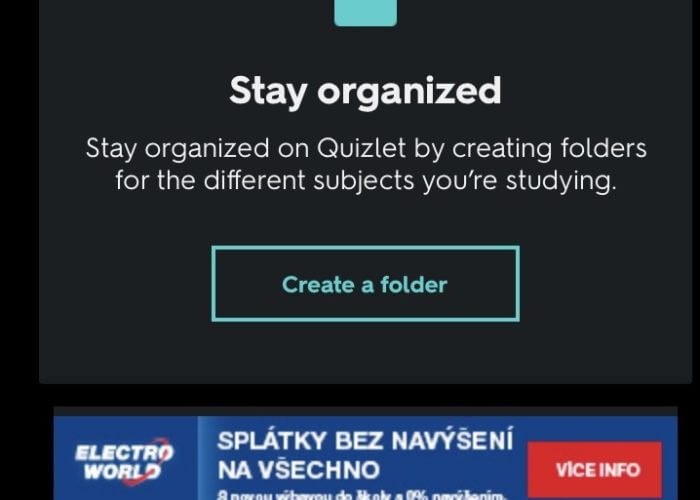 As the teacher Bri Stauffer writes "These (Quizlet's) ads are actually designed to distract your students away from learning."
It is always great to keep in touch with students, but maybe sometimes less is more.
4 emails/month from a Flashcard app made me don't like Marco and it is not personal at all!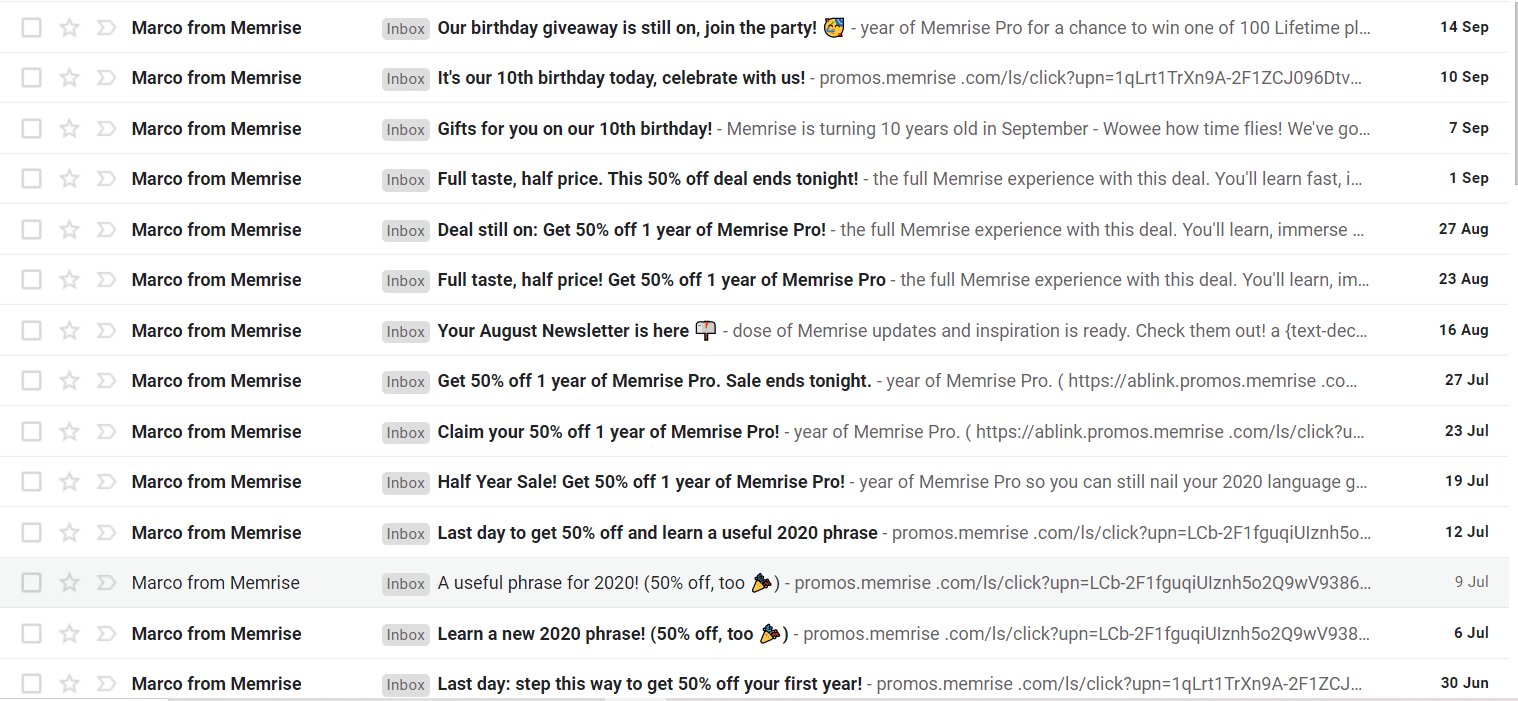 But Marco is nothing in comparison to Busuu's emailing.

Some apps even make it difficult for their users to export their very own hand-made Flashcards from the app, so they cannot leave and try sth else.
Vocabulary Miner cuts off the unnecessary and the useless
We don't run ads in the app. We hope you will support us by buying Premium with thousands of Word lists instead.
We decided to send users only 3 onboarding emails throughout their entire learning path:
when they sign-up
when they create their first own Word list
when they buy Premium.
If you get an email from us beside these 3, there is something super important we need to tell you. Otherwise we meet you at our Instagram or here on our blog.
The Flashcard app Vocabulary Miner sends one notification to remind you of learning after 48-hours of inactivity for the first time. Then in 2, 6, 13, 30 days of inactivity, you will get one notification. Then you will hear from us only every 32 days.
As we understand the need to try new tools for learning, Vocabulary Miner has very easy and FREE import and export thanks to the complement web app. Here is also a tutorial how to export Flashcards from the app that makes it difficult.
c) Quality > Our small team is open to suggestions and developing the product with users
We don't know how other app teams work and how they decide on product development. The big ones had their problems e.g. 2019 Memrise with Decks. Also, in 2018 Duolingo created a new complement Flashcard app Tinycards and now in 2020 they surprisingly disabled it for millions of users leaving them with no other option than to find a new Flashcard app (again).
We are a team of 7 people so we manage to brainstorm all together. We often "invite" the user as well by looking at reviews and talking to people – users and non-users. We listen to your suggestions and try to react to any problems within 12 hours.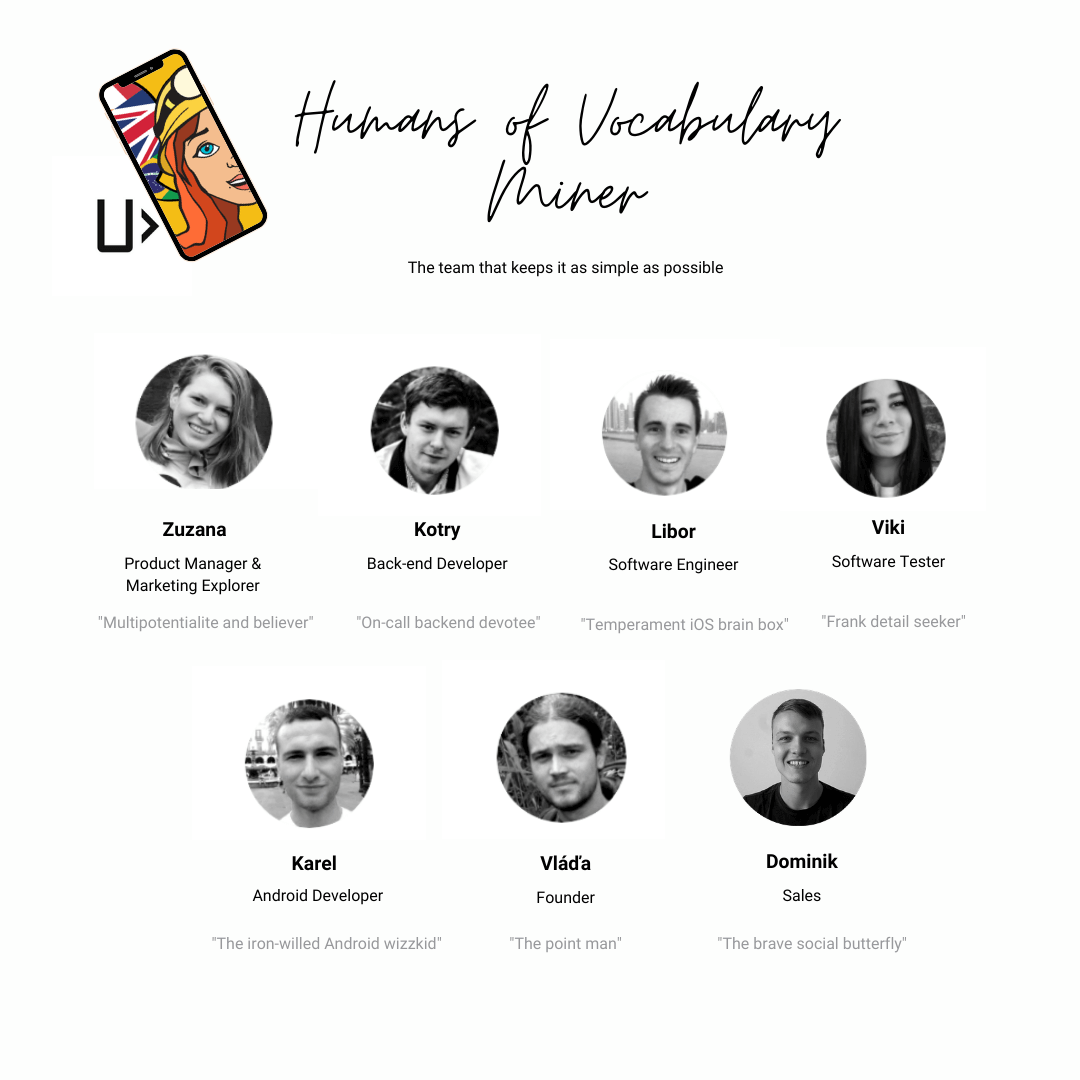 We even communicate with language schools like Jipka and expat centers like Move to Prague. We strive to give them the tool to stay in contact with students/clients to know what they need.
How to use Vocabulary Miner app? Check video … or more detailed tutorial here.
Interested in more stories? We practice to #saymore on our Instagram, too.
Good luck with finding the right app for your needs.
We hope you say more every day!