7 tips for learning a new language that you can do today
During isolation in this coronavirus world, there is time to reinvent passions for learning languages. You can learn languages by adding the new language to the daily routine without much effort and few tips for learning a new language.
So if you want tips for learning Spanish, tips for learning Japanese or tips for learning German … we have covered it all here. Just scroll down. Whatever happens ?..it is all about LEARNING how to deal with a new situation.
View this post on Instagram
From the very morning, there are thousands of opportunities on how to upgrade language skills.
Teachers and lecturers shared their unusual tips for learning languages in these idle times with us. ?Let's learn how to learn!
Here are 7 tips for learning a new language:
Language Tip No.1: Time to play without remorse & learn languages
You cannot meet new people and hang out. But now you have time to play games without any remorse! Playing computer games can also help with learning a language. Ever heard gamers say that Word of Warcraft taught them more English than their teachers?
Try playing PC/mobile games in a language you are learning as Czech In, the Czech language school in Prague, suggests. You can easily Google them.
Language Tip No.2: Speak to yourself
If you cannot speak with others, talk to yourself. Explore the power of self-talk. Talk to yourself in a language you are learning. "It is like seeing your thoughts from different perspective," me, Zuzana from Vocabulary Miner, share.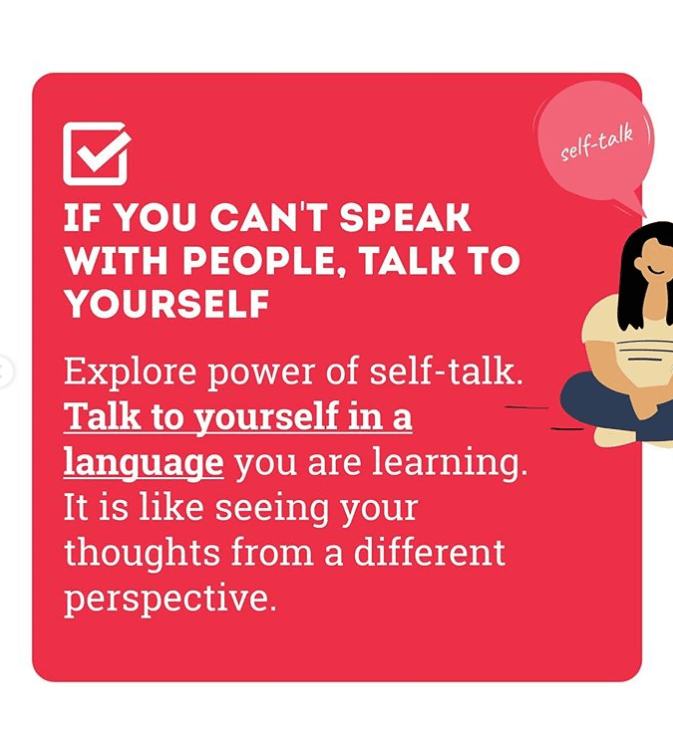 Language Tip No.3: Write to strangers
Do you want to try something new? One of the tips for learning a new language is writing to your new pen pal!
What about writing to someone in Turkey to get to know the political situation there? Or asking a Palestinian woman about her everyday life? It is all possible with Interpals.net. Our colleague Dominik uses it and he has the most amazing personalized news from all over the world. It seems to be a bit outdated but it is working just fine and for free.
Language Tip No.4: Keep a diary in a foreign language
"Keep a diary in the language you want to improve – what are you grateful for today? ?" Cesta k jazykům shares another advice.  By the way it is also a great method for motivation and positivity. It can help in any time!
Language Tip No.5: Learn to listen & learn languages
Podcasts. Just listen to a podcast. In any language. Listening will push you further in your language & communication skills and also self-growth. This is an advice by Cesta k jazykům, the language coach.
Vocabulary tip: If while listening in a new language there are unfamiliar words, Google Translate will help you. Marking these words with a star is a first step to create a fast Word list from Google translated words that can be imported to a Flashcard app. Here is how: Create dictionary with Google Translate and Flashcard app
Language Tip No.6: Get your mind in a different country
…by setting your phone to a foreign language. You look at your phone 52 times a day. Make it worth the while. It will feel like 52 tiny small talks in a different country.
Language Tip No.7: Things you love will make you wiser
Best way to study a language? Love what you are learning and learn what you love.
Lenka from CzechTime invites people to use social media for something else than just procrastination and coronavirus-news-scrolling.
She found a better use for them: "Join and Like your favourite groups, ideas, sports, people etc. on Facebook and Instagram BUT in the language, you are learning".
Example: If one is Italian and misses their home or just loves Italy and is learning Czech, the advice is to find an Italy fan blog in Czech e.g. Itálie v Brne on Facebook and Like and Follow it. The FB wall will be full of both, Czech language and Italy and learning happens without even knowing.
Do you have any more best tips for learning a new language?
You can also try free Flashcard app Vocabulary Miner. Check the video:

Interested in more stories? We practice to #saymore on our Instagram, too.
*originally published in Prague Morning for Czech learners.